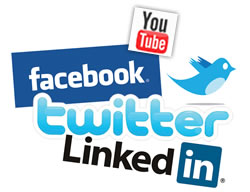 By Deborah Richmond
Promoting events through media has changed. Instead of reading local newspapers, people now use search engines and social networks to find event information. When people register for an event, they want to hear what others have to say about the event, and find out who else is going to be there. This social aspect helps prospects decide whether to attend, and can enhance the experience once they are at the event.
 The Four Phases of Meeting and Event Planning
 Social media can help with four different phases of event planning:
1. Planning the event
2. Promoting the event
3. Conducting the event
4. Following up after the event
 Planning the Event
Before you begin even promoting your event, social media and online tools can be used to help you organize your planning team and gather information you need during the course of your event.
 Some companies are using online collaboration tools, such as wikis, to provide a space where team members can share information and communicate during the planning process. Wikis can cut down on the jungle of emails that can grow out of control when members try to communicate using email. Wikis allow teams to easily see the information that is being shared and progress that is being made during the planning phase.
 Facebook groups are being used with some teams as another place to easily communicate. These groups can be restricted for use only by team members and are a fast way to touch base and communicate new information.
 Your team can use Facebook and Twitter to ask questions of your potential attendees regarding what speakers and topics they would like to see at your event. This type of crowdsourcing is very valuable and allows you to find the hot topics that will bring in more registrations to your event.
 Promoting Your Event
 Many events will create a website dedicated entirely to the event. This gives them a location on the internet to point people to when promoting the event. The New Partners for Smart Growth Conference creates a website specifically for the conference, and can be found at http://www.newpartners.org/ .
The website contains all details about the event and how to register. The website is also used to highlight information about speakers, vendors, sponsorship opportunities, travel arrangements, and program schedules as they become available.
 To help your event promotions, a blog can be attached to the website for frequent updates on information as it is determined, such as important dates and sponsors. The Society of Children's Book Writers and Illustrators blog, found at http://scbwiconference.blogspot.com/ offers short articles and photos from their past event. The blog focuses on up-to-the-minute updates on the upcoming conference and reports from the conference floor when the conference is in progress.
Creating buzz before the event is crucial to raising registrations. Social media accounts can be set up specifically for the event, in the same way a website can be used specifically for the event. These accounts become channels of communication you can use to start generating excitement and interest in your event. The Social Media Tourism Symposium created a Facebook page, found at http://www.facebook.com/SoMeTourism. On the page, they ask members to vote on choices of venues for the next event, allowing their audience to be directly involved in the planning of the symposium.
 Social media accounts can also be used for general notices about the upcoming event. The American Institute of CPA's uses its Twitter page, found at https://twitter.com/#!/aicpaconfs, to post tweets about registration information, brochures that are available, and other information their audience needs to know about the upcoming event.
 Event invitations can be set up on Facebook and LinkedIn specifically inviting people to the event. These notices allow a viral aspect to the invitation in that they allow attendees to broadcast to their personal networks that they are attending. When receiving an invitation, recipients can see who has already committed to attending. This allows your audience to identify potential networking opportunities they may have with other attendees at the event, and allow them to see the great value your event holds for them.
 Videotaping short interviews of speakers and posting them on the website and on YouTube gives your audience a sneak peek at the type of quality content they will receive at the event. Speakers can also be enlisted to promote the event to their social media channels as well, thereby reaching hundreds to thousands more potential registrants.
 Other bloggers in the industry can also be enlisted to help promote your event. Many bloggers are happy to write a post on your event, and provide links to their readers. Again, enlisting the help of bloggers can allow you to reach thousands of readers, giving you great access to new pockets of potential registrants.
 Conducting the Event
 Social media is not just for promoting your event. There are several clever strategies that can be employed during the event to better engage your audience. Many events now offer large monitors at the event that broadcast live Twitter feeds. Any tweets created using the event hash tag will be shown in real time on the screen. Live tweets and Facebook updates allow attendees to share their thoughts on the event while they are experiencing it.
 Mobile devices, because they are so widely used, allow attendees to share conversations and experiences during the event. Now more than ever, an event can benefit from giving attendees opportunities to participate. Texting becomes another channel of communication which can be invaluable for broadcasting logistical messages, such as information on last-minute room changes or schedule changes. Mobile devices also allow attendees to alert event planners to unforeseen glitches, such as AV equipment failure, problems with registration and sign-in, etc.
 Large screen monitors can be placed in strategic places in the event venue, and show a running list of Twitter messages about the event. Attendees who do not have mobile devices can keep up on the daily running conversation by checking these monitors, and stay apprised of announcements and last minute schedule changes.
 Video content can also be created during the event, and uploaded immediately to YouTube for viewing by attendees as well as folks off-site who were not able to attend in person. Short interviews of speakers and event participants adds to the valuable content available as part of the day's experience. This same content can be shared well after the event, and can be used in promoting the next year's event.
 The American Quilter's Association Quilt Show in Paducah, Kentucky, offers video-taped webinars of the classes and workshops offered at the live event. The webinars are streamed live to the offline audience who cannot attend in person. If a viewer is not able to attend at the time of the event, the webinars are available for viewing at a later, more convenient time. The subscription sales of the webinars provides another source of income for the event.
 Following Up After the Event
 Once your event has concluded, you can use these same social media channels to assist you in gathering feedback from attendees, and planning next year's event. You can send surveys by email to all attendees asking their opinions on topics, speakers and venue, and ask for suggestions for the next event. You can put out the same type of poll on Facebook, inviting members of the event's Facebook page to give comments and suggestions.
 After the event, messages and emails can be sent reminding your audience where to go to see video content created during the event, and where to buy a subscription to view workshops they may have missed.
 Choosing the Right Tools:
 When choosing the right tools for your event, first consider your goals. Is your goal to increase registrations? Is your goal to get the word out to a broader audience? Is your goal to provide new and interesting social media access during the event?
 Next, define your target market. Who do you want to reach with your marketing? For some events, the answer is obvious, (i.e. sales directors or dentists, etc.). If your target market is not so obvious, think about their demographic groups. Also consider what types of social media they already use.
 When getting started with social media tools, it's best to be selective. Avoid tackling too many channels at once. Select one or two networks you think will make the most impact on your event, and start to build a "social infrastructure" for your event on these networks.
 Understanding the new media landscape will help you find the best tools and strategies to use to promote and conduct your meeting or event. In the next section we will go into greater detail on each tool, how they are used, and offer strategy ideas on how to gain the most advantage from each.
Deborah Richmond is the owner of  TekkBuzz Marketing.  She helps businesses and entrepreneurs market online using social media. Social media changes quickly. Deborah keeps on top of what's new so she can bring her clients the best techniques to pump up their profits online. Download her free ebook "Pump Up Your Profits with Social Media" at http://tekkbuzz.com.