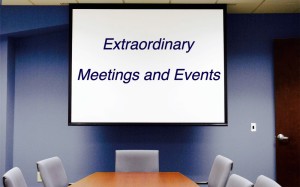 "Life is about moments; don't wait for them, create them." Anthony Robbins
We all want to create meetings and events that our attendees are excited to attend and rave about afterwards. Recently, I have been reading some of Tony Robbins (motivational speaker, personal finance instructor, life coach and self-help author) articles. He has one about creating an extraordinary life which got me thinking about creating extraordinary meetings.
I believe we can create meetings that are extraordinary by creating moments within the event that will make the overall experience memorable. How do we create one or more moments throughout the conference when people say 'WOW'! My top ideas on how to accomplish this are:
Location: pick a unique destination/venue that will inspire attendees
Event schedule: get creative…do not do the same schedule as the last event. Also, mix it up from day to day
Speaker: bring in an energetic speaker with a message tied to your theme
Networking: build plenty of time in for quality interaction with each other
Meeting sets: try new sets that will promote the atmosphere desired
Technology: engage with the tools that enhance your message and goal
Energy: create and maintain a high energy event through the sessions, healthy meals and breaks
Takeaways: make sure the attendees leave with lessons or tools that they can implement immediately
Community service: tie in a meaningful event that your attendees can choose to participate in pre or post event
As meeting and event planners, let's strive to create extraordinary experiences at our conferences.