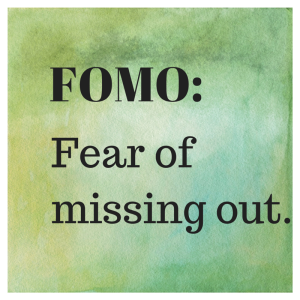 Thanks to a recent trip with a group of young professionals in the hospitality industry, I have learned a new acronym, FOMO (Fear Of Missing Out). The fear of missing out is discussed mostly among the younger generations. However, if we are truly honest with ourselves, we all suffer from this fear. We are all afraid of missing out on the party, dinner, game, concert and the fun that everyone will enjoy. In today's world of social media… we are often reminded instantly that we are missing out.
What does this have to do with the meeting and event planning industry? Imagine if you could create FOMO for every one of the events you plan. Imagine if you had people lining up to attend your events because they did not want to miss out. Imagine if they were telling others and creating a buzz that 'you have to be at this event'. It can be accomplished because the fear of missing out already exists; we just need to create the experience at our meeting or event that will engage this feeling.
My top five thoughts for creating FOMO are:
1. Establish an overall theme with great content and eye catching graphics to support it
2. Create more than a meeting…create an experience
3. Bring in excellent speakers that support the theme
4. Hold your meeting in a location and setting that supports the theme
5. Use social media (including pictures and videos) to generate excitement before, during and after the event.
Are you creating meeting and events that people are afraid of missing?