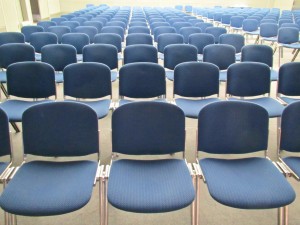 If you are a meeting planner responsible for events that are optional for attendees, you face the challenge of getting them to choose your event over others being offered. This is critical as you strive to increase attendance.
My plan for this post is to offer suggestions based on experiences with a few of our customers that have been able to increase their attendance between 8-15% annually. Overall, your goal is to make it a 'must attend' event. The attendees have many options and you need to be able to make your event stand above the others. The following are some of the ideas that were implemented:
Location- they were able to secure locations that makes it easy for the members and potential attendees:

Central- reduce travel time and costs
Easy access- driving, flying or train
Matches, when possible, the theme of the event or message of your organization
Content and Agenda

They stay on top of the latest and hottest topics and trends in the industry. This can be accomplished by engaging with the potential attendees by asking for ideas or suggestions for topics.
The agenda allowed for time to exercise (starting sessions later or ending earlier) and keeping up with work back at the office (longer breaks).

Speakers

Once the topics are confirmed, they find the best speakers to communicate the message.
They having been using a shorter session format to enable covering more topics and to keep the audience engaged.

Utilize all resources to grow the list of potential attendees

Local members
Local organizations that are in your industry or related industries
CVB / DMO

Marketing- they created communications that 'sell' the value of attending, not just announcing the event.

Why Register – Clearly articulate the true benefit of attending and why their attendance is important. Make it a 'must' to attend by making sure attendees understand the value of attending. Use testimonials and advocates for attending on your marketing materials to state why they attend. The message is more impactful coming from a past attendee or someone that plans to attend.
Make it easy to register – More ways to register will result in more registrants. Use them all; online, phone, fax, check, purchase order, credit card or even a mobile application.
Registration options including discounts – Everyone is looking for the best value so offer multiple attendee options; group discounts, company discounts, student discounts, early registration discounts, early bird hotel rates, public transportation discounts, etc.
Social Media – understand and utilize all the channels that will help reach your attended audience.

Communicate with members and potential attendees:

Early
Often
Through multiple channels
These simple ideas helped increase their attendance. What ideas have you implemented to help increase your attendance?